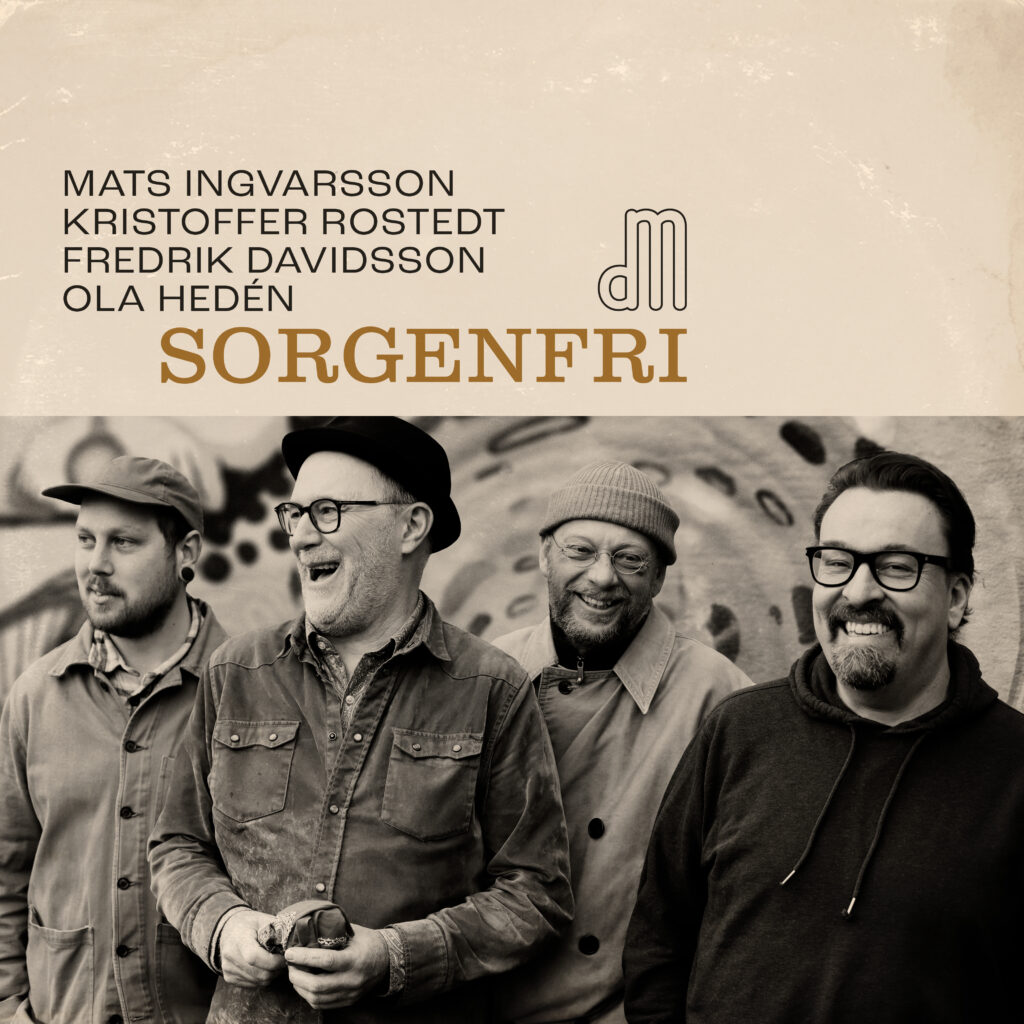 "
Free from sorrow, carefree..
A state we would like to be in. We made this music to push ourselves and listeners towards that state.
We recorded music we would like to listen to. Songs we already love spiced with our own arrangements or improvisation.
We hope this music brings comfort and harmony to the listener in times when greed and war troubles our world.
Ach Herr, Lass Dein Lieb Engelein (from St John's Passion by J S Bach)
River Man (Nick Drake)
I wish I Knew (Harry Warren)
Leaving (Fredrik Davidsson)
Wild Mountain Thyme (Trad)
Moon River (Henry Mancini)
That's It (Eddie Harris)

Fredrik Davidsson: trumpet/flugelhorn
Ola Hedén: piano
Mats Ingvarsson: double bass
Kristoffer Rostedt: drums
Produced by the band.
Recorded at Liv Produktion in Malmö by Christoffer Wallin in october 2022
Mix by Mats Ingvarsson
Master by Christoffer Wallin
Cover by Ludwig Rostedt
Photo by Karl-Martin Almqvist
Sorgenfri is a part of Malmö, most of it built in the first half of 20th century. It had some factories, was inhabited by working class and there were housing dedicated for families unable to support themselves. So the name, litterally meaning "free from sorrow", seemes almost like an incantation, trying to evoke some happiness into the inhabitants lives.
Some of the bandmembers have lived there in different periods and we liked the idea of using it as bandname, describing what we want to accomplish with this music.
All tunes are well-known songs except for one or two. We added some arrangements and play them in a classic jazz form with theme-improvisation-theme structure. The four of us are all engaged in different kinds of music with different people. This is a form we all are used to and comfortable with.
Ach Herr, Lass Dein Lieb Engelein
This is the last choral from Bach's St John's Passion. The arrangement is Fredrik's and particularly spoke to Ola who works a lot with religious music, gospel and psalms.
River Man
Is perhaps the most known song of Nick Drake. It's haunting simple melody, and shifts between minor and major modes, inspires a sentimental mood. The bridge has a string arrangement on the original with an intriguing rhythm that gets emphazised here with Kristoffer taking a drumsolo over it.
I wish I Knew
This is a song from a movie ("Diamond horseshoe" 1945) and became a pop-hit in it's time and almost made its way into the jazz standard repertoire. Most famous version might be on John Coltrane's "Ballads". The arrangement, just a few chord-changes really, was made by Mats as he was fiddling with a new guitar and did some arrangements on all tunes on Coltrane's Ballads.
Leaving
This is an original by Fredrik. Its fast afro-cuban rhythm and bluesy mode opens up for some more energy than the rest of the collection and we enjoy that contrast.
Wild Mountain Thyme
A traditional scottish folk song, recorded numerous times. We like the song but use it more as a carpet to sit down and meditate on.
Moon River
The well known tune from movie "Breakfast at Tiffany's" scored by Henry Mancini is a real pop-hit from just before pop became pop. The movie from 1961 made it popular and it has a hopeful feeling for a bright future that fits this album. Fredrik made the arrangement.
That's It
This is a little bit more obscure. It's the closing tune on Eddie Harris' album "I need some money" 1974. The tune appears to be more of a jam but Eddie Harris improvisations are so strong so Fredrik identified this as a melody. Eddie's version at least starts with it and he immediately hands over to someone else for soloing. His groove is a joy to dive into and we couldn't resist to play some modal funk.